Where are today's Esthers? (Purim)
Where are today's Esthers? (Purim)
Has G-d called us to stand in the gap for our nation and for Israel?
In ancient Persia (modern-day Iran), the king Ahasuerus (Xerxes), who reigned from 486-465BC, had an evil  official named Haman, who plotted to kill all the Jews. Unbeknownst to Haman, the king's wife was Jewish. When the plot was discovered, Esther's uncle, Mordecai, told Esther to go to the king, her husband, and beg for the lives of her people.
Esther knew that by initiating contact with the king, she was taking her very life in her hands. As Esther pondered going, Mordecai, wisely told her: "For if you keep silent at this time, relief and deliverance will rise for the Jews from another place, but you and your father's house will perish. And who knows whether you have not come to the kingdom for such a time as this?" Esther 4:14. ESV. In faith she believed G-d and did her part to deliver Israel from destruction.  Yes, G-d used one brave woman to save an entire nation.
Question: "Were we, perhaps, created so that we could intervene and that our nation and Israel could saved at such a time as this??"
———–
Purim is a fun holiday. It's a holiday when children dress up, usually like the various characters in the story of Esther.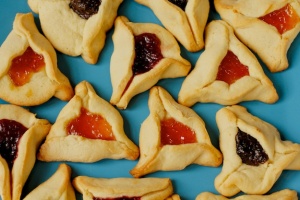 The Yiddish word is Hamentaschen (the Hebrew, Oznei Haman). These delicious 3-cornered jelly-filled cookies represent the villain Haman's hat, or more literally, his ears are a favorite holiday treat.
Enjoy this fun holiday … but, remember, we were created for such a time as this!
———–
Prayer:
"Mighty heavenly Father, You have brought us to another holiday. Help us to embrace and to learn more about Your calendar – and to look forward with anticipation. Bring all our children to a knowledge of You and to walk in Your precepts. Be with and heal our soldiers. Bring Your peace to J'lem and turn the hearts of Americans to You. In Your holy Name."
IMMEDIATE Prayer Requests:  
Pray for Israel!
Protection for pastors
Tere: healing!!!
2-year old Grandson (Mary & Joe Benton): Please pray little Joshua's healing.
April (Betty & Harold Olson's daughter): diagnosed with cancer. Payer for healing and restoration.
Sa'ed (the Iranian-American pastor who was recently released from Iranian prison) and his wife: their marriage. And unity of their family.
Marsha (Rhonda's friend): friend's husband has end stage renal failure. Encouragement and peace.
Shar (Lori and Les'a's friend): peace and physical and emotional strength
Prayer for ISIS to be stopped;  protection of believers
Prayer for those who are in financial or emotional difficulties.
Pray for America.
Paul & Lynn Mann: total restoration.
Jessica (Lori & Jim's daughter): return to the God of her youth – the God of her parents.
Read all He is doing through prayer!
Oxana's grandbaby, even after struggle with birth, born healthy!
3 babies born healthy!!
David Davis (pastor of Kehilat haCarmel in Haifa) has completed his extensive treatment in Mexico and has returned to Haifa!
April: good report from doctor!
Tracy's infection didn't spread to her bones!
Shar (Les'a's friend): house sold!!!
Peace has returned to Don's mom!!!
Pamela's miracle at work.
Mary and Joe Benton's son is now in Tucson! Grandson's blood counts remained steady through the trip.
April (Betty & Harold's daughter): scan came back showing no cancer in her brain!!
Co-worker's hubbie (Lori): released from ICU, after having grand mal seizures
Families are being reunited!
Grandson (Les'a and Don): spared and visited by an angel.
Connie is getting stronger everyday … and able to come to Service last week.