Is Passover Jewish?
Are WE supposed to celebrate it??
It never ceases to amaze me at the questions people ask and/or the comments they make. At this time of year, I often run into people who ask me what my weekend plans are. When I mentioned we are getting ready for Passover, many question "You're not Jewish, are you? I thought Passover was only for Jews" (Passover begins the evening of April 22.)
Let's see what G-d says about Passover:
Lev 23:4-5: "'These are the Lord's appointed festivals, the sacred assemblies you are to proclaim at their appointed times: The Lord's Passover begins at twilight on the fourteenth day of the first month…"
Do we believe His Word literally? Or do we believe only parts of it?
Most of us confess that we believe His Word literally – word for word. But, do we? If we do, then we are aware that the Festivals are part of G-d's eternal calendar for all those who believe, not just for Jews. We also have read that G-d has appointed specific days for His Festivals to be celebrated. Even though we understand that the Festivals were chosen by G-d, we might wonder if those passed away with the Yeshua's death and resurrection.
In Lev. 23:14b, G-d has answered the question of whether followers of Yeshua need to celebrate the Festivals: "This is to be a lasting ordinance for the generations to come, wherever you live." He doesn't say we are to commemorate these until Yeshua dies on the cross. Throughout Scripture, G-d states that observing the Festival is to be a lasting ordinance and further emphasizes the importance of continuously celebrating the Festival by instructing that it is for generations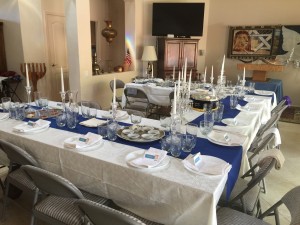 to come regardless of where we live.
The Hebrew word for an "appointed time" is mo'ed (מוֹעֵד). Mo'ed is a rich word. While it literally means "an appointed time," its connotation is that it is an appointment of great import. For example, an appointment with a doctor or attorney trumps all other things on your calendar. Why do you make it a priority to arrive on time? You will miss the opportunity of meeting with that person and probably you will be charged for being a no-show. Similarly, G-d expects us to arrive at His appointed times on time, not when it is most convenient, but at the time He ordained.
I encourage each of us to make His festivals a priority on our personal calendars. Let us approach each with a heart of expectancy. Know that observing these festivals is not drudgery but the Ancient of Days, the Creator of the universe, the One whose name is above all names is giving us the opportunity to attend His festivals. He will show up – we do not want to miss Him, do we?
"L-rd, we continue to be in awe of Your allowing us to participate in Your calendar! Thank You. L-rd, we love how You move each week in the hearts and lives of all Your intercessors. Thank You for the many good reports this week. Bless and heal all those who are struggling physically and mentally or emotionally. Bring our loved ones to an impactful relationship with You. Heal America, our homeland, and bring Your peace to Jerusalem, Your favored land. Protect our soldiers and touch their families. We love You, our King!"
IMMEDIATE Prayer Requests:  
Pray for Israel!
Protection for pastors
HEALING and PEACE for all!!!
PJ: tumor
Rhonda & Aunt (Norman George's): healing!
Olsens: wisdom & peace
Tere & Deb: healing!!!
2-year old Grandson (Mary & Joe Benton): Please pray little Joshua's healing.
April (Betty & Harold Olson's daughter): diagnosed with cancer. Payer for healing and restoration.
Sa'ed (the Iranian-American pastor who was recently released from Iranian prison) and his wife: their marriage. And unity of their family.
Marsha (Rhonda's friend): friend's husband has end stage renal failure. Encouragement and peace.
Shar (Lori and Les'a's friend): peace and physical and emotional strength
Pray: for ISIS to be stopped;  protection of believers
Pray: for victims of terror and their families
Pray: for those who are in financial or emotional difficulties.
Pray for America.
Paul & Lynn Mann: total restoration.
Jessica (Lori & Jim's daughter): return to the God of her youth – the God of her parents.
Read all He is doing through prayer!
Oxana's grandbaby, even after struggle with birth, born healthy!
3 other babies born healthy!!
David Davis (pastor of Kehilat haCarmel in Haifa) has completed his extensive treatment in Mexico and has returned to Haifa!
April: good report from doctor!
Tracy's infection didn't spread to her bones!
Shar (Les'a's friend): house sold!!!
Peace has returned to Don's mom!!!
Pamela's miracle at work.
Mary and Joe Benton's son is now in Tucson! Grandson's blood counts remained steady through the trip.
April (Betty & Harold's daughter): scan came back showing no cancer in her brain!!