Elul 1: God's Mercy
As you may know, I just returned from 5 fantastic days with our daughter, her hubby, and their 17-month old. Every morning, little David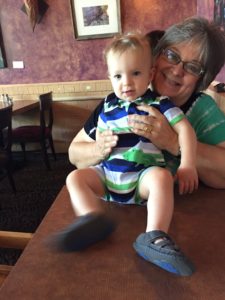 awakened with excitement for the new day. I got tickled hearing him recite his entire vocabulary, including sound effects. (Albeit, it was a little stretching as I attempted to understand his bits of syllables … after all, he is only 17 months!) But what really struck me was how every morning was a new day to David; he was filled with excitement. I pondered how our heavenly father wants US to begin each day with marvel at  His splendid works. Indeed, His mercies are new every day: "
The steadfast love of the

Lord

never ceases;
his mercies never come to an end;
they are new every morning;
great is your faithfulness." Lamentations 3:23-23. Remember sickness and problems are only real to the flesh — not to the spirit!
The month of Elul begins this Wednesday, August 23. The first of Elul is 40 days before Yom Kippur. These 40 days are a time of introspection, a time to right any wrongs, a time to draw near to our Lord and Messiah.
Each week, we shall have a different focus. Our focus this first week of the month of Elul  is mercy, which is a common theme in the month of Elul.
Mercy (in Hebrew, rachamim, is generally translated: love tenderly, pity, sympathize with, or have compassion on. Mercy
includes showing kindness to the undeserving, and forgiving the guilty. We often think of Valentine's, weddings, and love stories as being love. But our heavenly Father has so much more for us; after all, it is He Who created love. He is the One Who is the true lover. Only in Him & by following His example are we able to truly love and have mercy for others.
Ex 34:6-7, lists 13 of God's attributes of mercy: "The LORD, The LORD God, merciful and gracious,long-suffering, and abundant in goodness and truth, keeping mercy for thousands, forgiving iniquity and transgression and sin, and that will by no means clear the guilty; visiting the iniquity of the fathers upon the children, and upon the children's children, unto the third and to the fourth generation." (Ex 34:6-7,KJV).) These attributes are a terrific place for us to begin practicing extending God's mercy to another.
ACTION:  This week, let's focus on exhibiting HIS love and mercy, even as He has to us. Let's also practice being excited for each new day He has given us, even as a young child exhibits this!
Prayer:
"O, Lord, how great is Your loving kindness. Your mercy is beyond anything we can imagine or understand. Help us to focus this week on following Your example – on loving those who challenge us. Help us to incorporate Your attributes of mercy! Help us to exhibit Your love & compassion to others. Protect the persecuted church – especially those in the Middle East, Syria and Iraq. Bring Your true peace to our country, to Jerusalem, to Israel, to Your people. In the Name of our precious Messiah, Yeshua, we pray. "