Week 5 of our Walls of Jericho fast – keep pressing in …
Week 5 of our Walls of Jericho fast – keep pressing in …
By Les'a Cole
In the first two weeks of our Walls of Jericho fast, the battle raged. The 3rd week, we began to see breakthroughs. The 4th week was again intense, but miracles continued popping up. As with week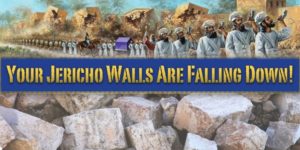 3: some of the miracles were huge, others were smaller.
There are only one and a half weeks left of this Walls of Jericho fast. Let's continue to press in! Let's continue believing for God Himself to break thru those walls of seeming impossibility.
Two and a half weeks ago, my nephew was in a horrific and nearly fatal motorcycle accident. It was expected he wouldn't live – but God had other plans! And yesterday, he was had recovered sufficiently that they transferred him to a rehab facility for intense occupational and physical therapies. Remember Rob had been classified as critical and was in Neurology ICU for 2.5 weeks; he had hovered between life and death! God answered … all of Rob's medical team was totally amazed at his progress. …. Let's continue believing for those miracles that only God Himself can perform.
What is this month of Elul?
Now, is the time to think about our relationship with the Creator.
Is our walk such that He can really use us??
Beginning tomorrow, Yom Kippur is only 10 days away. This is the season of reflection, repentance, and drawing closer to our LORD, readying ourselves spiritually for His holy days. Are we ready? Are we prepared to come face to face with our Creator?
Many of us began fasting on the first of Elul, 29 days ago. We have been asking the LORD for breakthroughs: for us, for our loved ones, for our country, for our congregation. We each need to be watchful for little breakthroughs … He is moving! (I encourage you don't let circumstances weaken your resolve to continue this fast.)
Are we ready?
Are we ready to not only fast for others, are also we ready to let go of those hidden things that the LORD has been speaking to us about? Are we willing to put those things aside so His light shine through us?
Colossians 1:11 ESV "being strengthened with all power, according to his glorious might, for all endurance and patience with joy"… "Be joyful in hope, patient in affliction, faithful in prayer," Romans 12:12 NIV.

Yes, YHVH will strengthen us with His might, as we are faithful in prayer and joyful in hope and patient!
PRAYER:
"Mighty God! Thank You for Your miracles this week! We surrender those secret things You've been wanting us to give to You. We bring these before the altar. Our greatest desire is to glorify You in all we do – in every FaceBook post, in every reaction in traffic, in each difficult situation we encounter on the phone or in a store. Help us to remember You before we react. Mold us in Your image. We ask that You break these walls of seeing impossibility … for Your glory! We ask that You halt the divisiveness in our country and in Israel. Bring righteous leaders to power. Bring Your divine peace to Israel and to the US.  In the holy Name of our Messiah, b'shem Yeshua. Amen."
IMMEDIATE Prayer Requests:
USA: Wisdom for our leadership, their health, and their direction. Prayer for their safety.
Prayer for total healing for Tere, Joan, Rob, Jake, and Jessica. Plus all who are struggling physically.
Israel: peace and righteousness.
Protection of the persecuted church.
Continuous Prayer:
Pray for healing and direction of the US
Pray for Israel!
Protection of the persecuted church
Prayer for our soldiers and those in uniform: that they might be spiritually, mentally, physically, & emotionally whole!