Why Learn Biblical Hebrew?
Why Learn Biblical Hebrew?
 Yearning to read Scriptures like Yeshua & the Apostles did?
Have you ever wanted read your Bible in its original language? Feel inadequate because you've never before studied a foreign language? Have you ever tried to learn Hebrew and felt like you didn't succeed? Have lots of Hebrew study books in your storage?
This time, it will be different!
Our Biblical Hebrew is a time-tested class that teaches, while students have fun & fellowship with other Believers. Regardless of how much each individual did or didn't know about Hebrew, by the end of Biblical Hebrew 101, each learned to read Biblical Hebrew … without fail — no dropouts!
Learn to read Biblical Hebrew in 10 classes
Learn to pronounce Biblical Hebrew as an Israeli
Learn Hebrew blessings, Hebrew prayers, and Festival blessings
Learn how to read from a kosher Torah Scroll — in Hebrew without vowels!
You will be able to read from the Torah (1st 5 books of the Bible) & the Haftarah (the Prophets and the Writings)
"Blessed are You, O LORD; Teach me Your statutes," Psalm 119:12
בָּר֖וּךְ אַתָּ֥ה יְהוָ֗ה לַמְּדֵ֥נִי חֻקֶּֽיךָ׃
You will learn to print Hebrew
You will develop a Glossary of Hebrew Biblical terms
You will learn to understand the Scripture as from a Biblical perspective
Sessions are recorded, allowing you to listen to classes as many times as you want for personal development.
We encourage everyone to learn Biblical Hebrew … you'll be surprised at how the Scriptures will open in a new dimension. There is no other program like this anywhere!
"O how I love Your Torah! It is my meditation all the day." Psalm 119:97
מָֽה־אָהַ֥בְתִּי תֹורָתֶ֑ךָ כָּל־הַ֝יֹּ֗ום הִ֣יא שִׂיחָתִֽי׃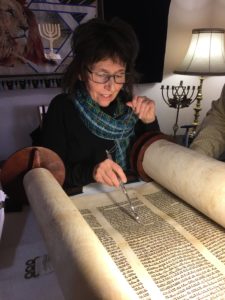 For more info, email or call: 520-370-1014.