Jericho March
by Les'a Cole
Many times throughout the years, we, as a Body, have joined together in prayer and fasting. We have seen God miraculously intervene. As we look around us, we see people everywhere who at critical crossroads; crossroads, physically, mentally, emotionally, and financially. If we look beyond our own small circles of friends and family, we see desperation. We see Israel in the cross-hairs of much evil from those who seek with great avengence to anhilate her and her people. We also see the intensity with which the persecuted church is being attacked. And, in our own nation, we see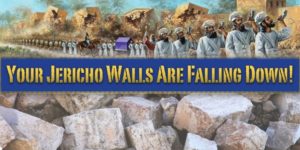 tremendous animosity and evil. It should not surprise us with our country, as once again we have elections coming very soon. Will we choose godly and upright men and women or will we follow the way "of the world & what seems right"? Will our country be God's beaken of light to the other nations?
Now I believe is the time for us once to join our arms together for a spiritual Jericho March? Will we set aside time in prayer and fasting to see God break through?
The 1st of Elul begins next Sunday, August 12, 2018. Elul is the Biblical month prior to the Fall Biblical Festivals. Traditionally, Elul is a month of Teshuvah – a time of turning away from the busy-ness of our daily lives and turning to God. Are there things in our lives which He wants us to change?
During the month of Elul, leading up to His Holy Days, we have fasted and prayed even as the Hebrews did at Jericho. God has intervened and the walls have come down. Beginning next Sunday, Agust 12, let's dedicate ourselves to seeing God change not only ourselves, but also those around us, our nation, the persecuted church, and Israel. How can we do this? A Daniel fast is a great way. Are we willing to give up something we enjoy? Could be a food, TV, something we do often.
This week, prior to our beginning this Jericho March, jot down areas what we're willing to give up and what areas we're  wanting to see God move and change circumstances.
Prayer:
"Father God, Ancient of Days, we praise You. This week, as we prepare for our own spiritual Jericho Marches, give us Your wisdom and direction as to how we can be the most effective for You during this season. Show us what areas in our lives You want to purify, for our nation to turn to You, for peace in Israel, and for whom we can pray. What would You have us to give up for You during the month of Elul? Thank You for Your love and constant guidance. In the mighty Name of our soon-coming Messiah we pray. Amen."
IMMEDIATE Prayer Requests:
USA: Wisdom for our leadership, their health, and their direction. Prayer for their safety.
Israel: peace and righteousness.
Protection of the persecuted church.
Continuous Prayer:
Pray for healing and direction of the US
Pray for Israel!
Protection of the persecuted church
Prayer for our soldiers and all those in uniform: that they might be spiritually, mentally, physically, and emotionally whole!